Page 11
1751 July 9th is born my third son Joseph.
1754 Mar. 9th is born my fourth son John
1756 Nov. 26th is born my fifth son Cornelius (1st).
1759 Aug. 16th is born my sixth son Alexander.
1760 Sept. 10th departed this life my son Cornelius (1st).
1761 Nov. 5th is born my seventh son Cornelius (2nd).
1764 May 24th Is born my third daughter Catherine.
1769 Oct. 11th departed this life my sixth son Alexander.
1778 June 21th departed this life my son John.
1780 April 20 departed this life my son Benjamin, killed by Indians, being my eldest son.
1771 April 8 departed this life my dearly beloved wife, Elizabeth, on Wednesday at 2 o'clock.


William Ennes Jr. (II) and his wife Elizabeth Quick are buried in the Old Dutch Cemetery on the Mine Road in the northeast corner of Sandyton township, Sussex County, New Jersey.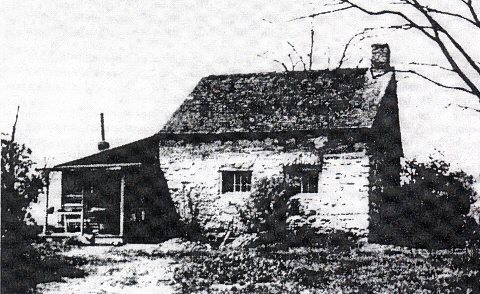 Old William Ennes House—The home of the one-armed school master who resided here in 1751. This picture was taken in 1968 by C.V. Crane, President of Minnisink Historical Society. Mr. Crane is standing infront of building.




More relating to William Ennes (II) is learned by reading a condensed copy of his will.





Click on page number below
Cover Page....Cover Page2
1..2..3..4..5..6..7..8..9..10..11..12..13..14..15..16..17..18..19..20..21..22..23..24..25..26..27
28..29..30..31..32..33..34..35..36..37..38..39..40..41..42..43..44..45..46..47..48..49..50..51
Index